You know what was a really good invention? Christmas tree light strings that stay lit even when one bulb dies.
Remember when the lights were roundly conical, screwed into the sockets and got REALLY hot? It was the late 60's and through the 70's.
Oh the fun of sitting in the living room of an evening enjoying the tree until you finally had to say, "Dad...I smell something funny burning."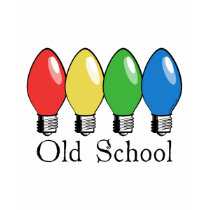 Then Dad would run to the wall, unplug the socket and look for the bulb that was turning the socket brownish, to replace it with a bulb that wasn't going to burst into flame?
The 70's was a decade fraught with disco and danger.